New Orleans
Welcome to the home of Jazz, Creole food and of course, Mardi Gras. But even outside the carnival season there is more than enough to do in this beautiful city. This is our top picks for a weekend in NOLA - hope y'll like it!
The French Quarter is known for its iron balconies, colorful buildings, Bourbon st and jazz bars. There is no problem spending a full day in the area, even though it's not that big.
For a full day in the French Quarter we suggest starting the day of with brunch at Willa Jean. Don't forget to get yourself one of their famous cookies and milk before you leave!
After brunch you will want to walk for a bit, because there are no light meals in New Orleans. Walk down to Jackson Square – and look at the St Louis Cathedral and may street performers around. Everywhere you go you will hear jazz as a soundtrack to your day.
Bourbon street was not really our thing, but its definitely worth a look. Stroll up the street and grab a take away frozen Daiquiri, at one of the many shops that serves slushy style drinks in every flavor imaginable.
Continue on down to the water, to the French market. By the end of the market you find NOLA's most famous Cafe - Cafe du Monde. They are famous for their Beignets, which is a donut style dessert, covered in powder sugar.
Strolling on, you will find Acme Oyster House, where you can have oysters in all form and shapes. After grabbing a few oysters its time for a pre dinner drink at the Carousel Bar at Hotel Monteleone. If you are lucky you can snatch one of the seats in the spinning bar
For the best Jazz bars, the locals stay away from Bourbon st and instead head to Frenchmen street.
The Bywater area is an upcoming, bohemian area of New Orleans. Its a lot slower pace and less crowded than the French Quarter. Walking to Bywater takes about 40 min from the French Quarter. Its a nice walk along the water and through Crescent Park.
The Bywater area has a lot of quirky homes, art galleries and bohemian restaurants. Our two top picks were Elizabeths and Satsuma cafe.
Dont miss out on the food!
There are some things you just cannot miss while in NOLA
* Biscuits and Grit, preferably at Willa Jean.
* Beignets at Cafe du Monde eller Cafe Beignets.
* Po'boys with fried shrimp
* Seafood and Oysters in particular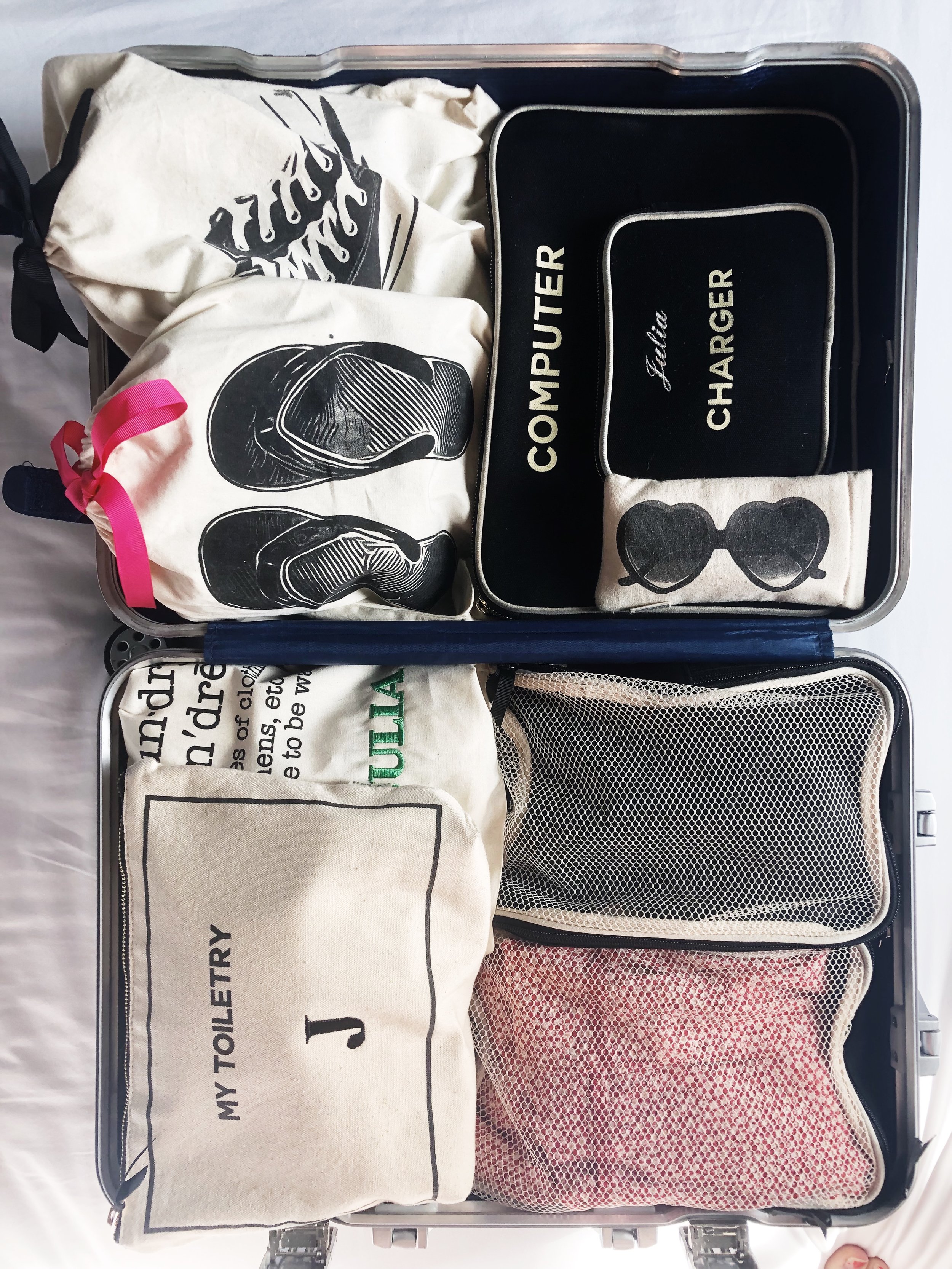 During the spring and summer, NOLA is hot! For a weekend trip some summer wear, swimsuit and a pair of comfy shoes will get you far, since you will most likely do a lot of walking.
When traveling with just a carry-on, space is always an issue. The best way around this is to pack in packing cubes!
Keep you shoes in a shoe bag to protect the rest of your items for getting dirty.