Bridesmaids 101
Getting married is the most wonderful thing, but let's face it - it can be really stressful. There are so many details to plans and big decisions to make. Fortunately you have a select few of your closest friends that are there to help you along the way - the bridesmaids! Giving them a thoughtful gift—as a token of your appreciation —is always much appreciated. We have had the fortune to meet many brides to be, and help them find the best bridesmaids gift for their wedding.
Below we have gathered some things that could be good to think of, and some bridesmaids and wedding gifts to get inspired by. Enjoy!
put their name on it!
What Should You Get Them?
Before jumping the gun and just buying your bridesmaids the first matching bracelets you see, consider a few things first. Firstly, you don't need to give everyone the exact same gift. As long as you keep the gifts to a theme and within the same price range. That way, everyone knows you took the time to pick out something just for them. Adding their name or initials as a monogram is also a good call, since nothing makes it more personal than that.
We also encourage getting a gift which is timeless and considers travel logistics. A monogrammed bag and case can be used for a long time after the wedding and will make your bridesmaids think of you and this moment, with every use.
Different bags for each bridesmaids
When Should You Get Them?
The gifts for bridesmaids doesn't have a specific timeline, but with a wedding where there are so many things needs to be made last minute, its always better to make all decisions and actions sooner rather than later when possible. The last thing you want to do is to worry about the gifts the week before the wedding.
When To Give Them?
This is of course very individual. Many of the brides we meet buy the gifts as a way of asking their bridesmaids to be a part of their wedding party. Its a nice way to show your appreciation and also give them something they can use at the wedding and on the bachelorette party.
Give them something useful for both the wedding and for other upcoming trips.
This bride had a destination wedding on the beach and chose to get each of her bridesmaids a bikini bag before the departure. How cute?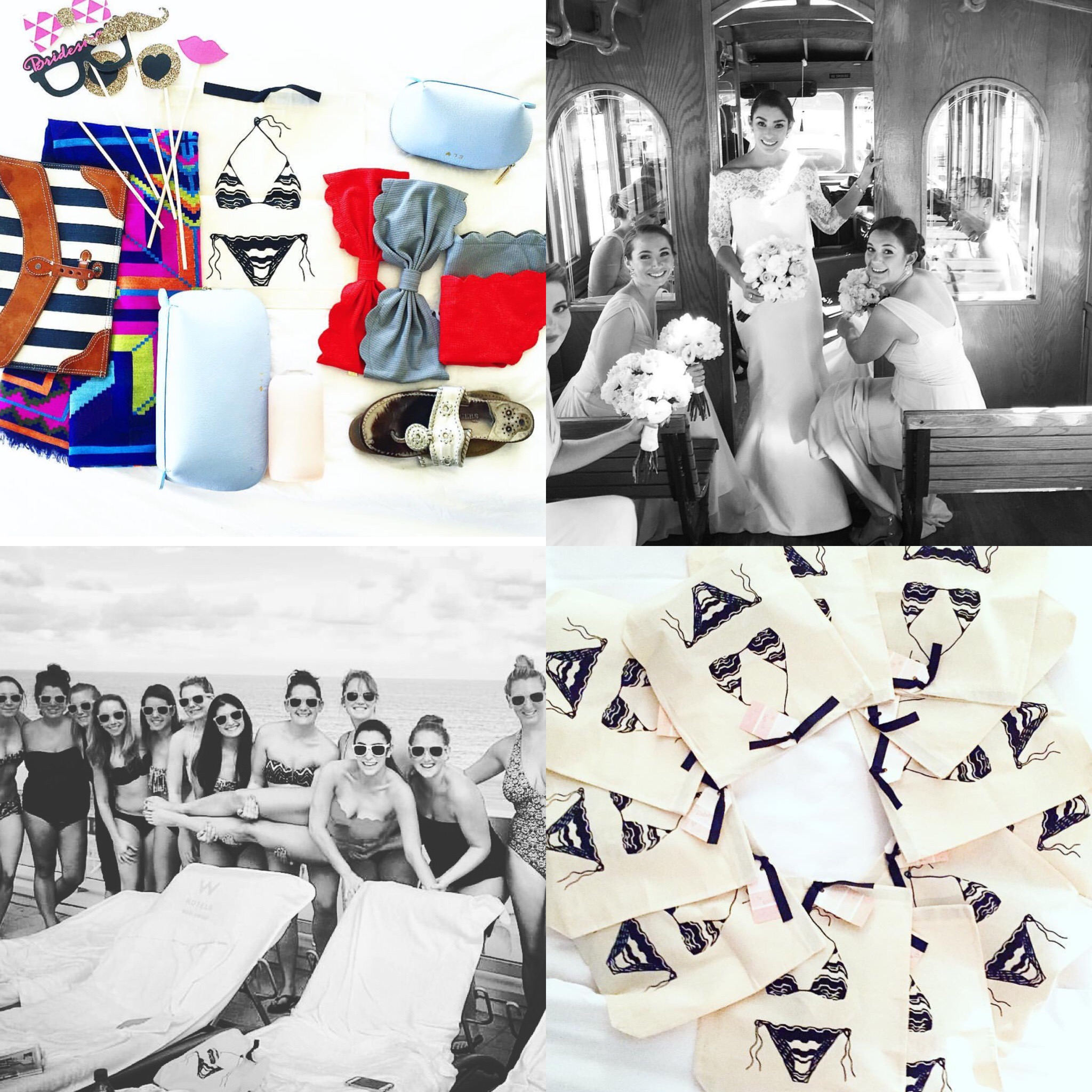 How Much Should You Spend?
There are two main aspects to consider. The first and most important one is :What will your budget allow. Obviously, you should never spend more than you can, and the most important thing is that the gift is thoughtful, not expensive.
The second question is how much are you expecting your bridesmaids to be shelling out for you. If they are expected to pay for plane or train ticket, hotel room, dress and shoes—not to mention the bridal shower, bachelorette party, your wedding gifts etc. Your gift should reflect that. However, there is no need to spend over $100/bridesmaid.