Our best travel companions: the Packing cubes!
We can all agree that unpacking is not the most fun part of your trip. Although, there is no better feeling than when your bag is unpacked and you can feel at home at your hotel. We have made our very best to reduce this problem for you and allow you to feel at home and start focusing on all the fun parts of your vacay, just minutes after you reach your destination.
The Packing Cubes comes in a set of three - one small, one medium, one large— and keeps your clothes, gadgets and toiletries organized, so they can go straight from your bag to the hotel dresser. The mesh tops allows for visibility and breathability and also make the cubes very lightweight (because weight should be held to a minimum when packing).
If you are a next level organizer like us, you can also choose to monogram our blank packing cubes so they fit your exact need. Or maybe just put your name on there so no other family member "borrow" them and never give it back.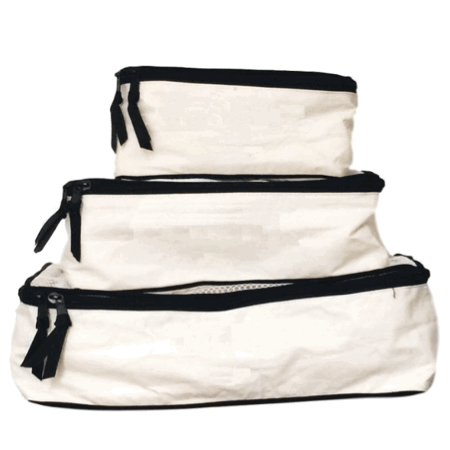 Your packing cubes transforming with monograms!
The cubes can obviously be used when packing for a trip, but they are also great to use for everyday activities. Bag-all's Julia uses a Medium Packing Cube, for packing her gym clothes.
Packing like a pro: If you roll your t-shirts, they take up less space and won't wrinkle as much. The small cube can fit 4 regular sized t-shirts this way.