The Great Barrier Reef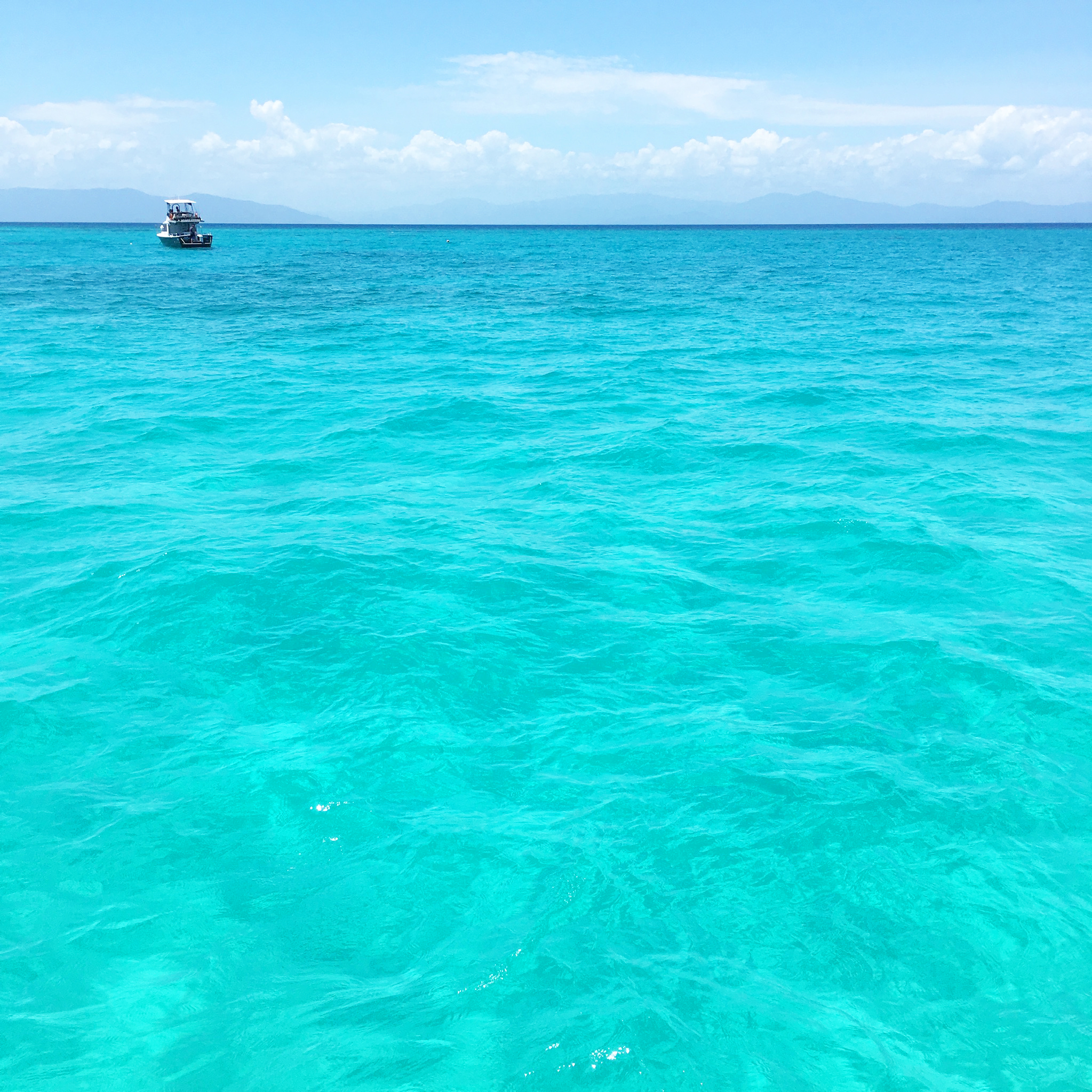 The beauty of the world's largest coral reef
Approaching Carins on Australia's northeast coast we were able to spot the Great barrier reef from the airplane. The beauty of this ginormous reef, so large it is visible from the moon, was breath taking and there is no need to question why it is one of the seven wonders. Now, imagine a coastline decorated with a giant rainforest accompanied by the Great Barrier Reef. This is the only place on earth where two World Heritage listed areas meet, the Daintree rainforest and the Great Barrier Reef.
The Great Barrier Reef covers 340.000 km2 (larger than United Kingdom, Holland and Switzerland combined), includes 3.000 coral reefs and contains a huge number of animals and plants such as turtles, jellyfishes, colourful fishes, sharks, dolphins and rays. You can explore the Reef by snorkeling, diving, swimming, sailing or flying above this living masterpiece.
Our first day in Cairns we decided to go on a snorkel/dive trip with The Falla, a beautiful ship built in 1956. The Falla took us out to the reef and we got the opportunity to dive and snorkel at a couple of different spots. It is impossible to explain with words how beautiful it was to swim in crystal-clear 28 degrees water among giant turtles, manta rays, jelly fishes, giant clams, Nemo and his friends. Choosing the Falla and its friendly crew, when exploring the Reef in an ecologically manner certainly was the perfect choice! Don't forget to bring Bag-all's Wet Beach Stuff for your wet swimmers.
The second day we decided to explore another World Heritage listed area the Daintree Rainforest. We took the Scenic Railway up to Kuranda, a beautiful village 1,000 feet above Cairns. It took almost 2 hours climbing up the mountains, going through 15 hand-made tunnels and crossing 37 bridges. The view was stunning and the train itself, built in 1882, was adorable.
In Kuranda we went for a walk and visited Kuranda Original Rainforest market with a range of locally produced products. We had a refreshing watermelon juice at a tiny café in the middle of the jungle. Before heading back to Cairns, we visited the Australian Butterfly Sanctuary with more than 1.500 magnificent butterflies.
We then decided to travel 7.5 km over the tropical rainforest in a Sky rail back to Cairns.
The Daintree Rainforest is home to a unique collection of plants, birds and butterflies. It's amazingly 60 million years older than Amazon, making it the oldest continually surviving tropical rainforest.
Our last day we took a day trip to Green Island for a last snorkel tour on the Reef. Green Island is located in the Great Barrier Reef Marine Park and it's only a 45 mins ride from Cairns. We must admit that this island was quite busy with tourists, but we found an empty beautiful beach just a short walk from the 'main beach'.
I had a secret desire to see a shark when snorkeling at the Great Barrier Reef. I have always been fascinated by sharks and I think they are such beautiful animals. But since my husband has a shark phobia I didn't tell him, nor my kids, about my wish. However, that explains my excitement when we spotted a shark next to the pier on our way to the weasel back to Cairns. It was exactly as beautiful, cool and gracious as I'd imagined.
In other words, we ticked all the boxes just before returning back home to Sydney.
This trip has been more than amazing, and I wish it was all beauty, but I can't help thinking about climate changes and how it effects the Great Barrier Reef. The Reef is under pressure from climate change where coral bleaching is a devastating consequence. Outbreaks of coral diseases, elevated temperatures, flooding and cyclones are other factors that have significant impact on the Reef. A dominant cause is an increase in greenhouse gas emissions (from burning fossil fuels such as coal, oil and natural gas), agriculture and land clearing.
So how can we help the reef? It may feel daunting, but we can all do something. Our vision at Bag-all is to reuse and reduce waste. We try to follow the Three R's – Reduce, Recycle and Reuse, in everything we do. We can all reduce plastic waste by buying vegetables loose instead of in plastic bags, buy food with less packaging and buy in bulk. Switch to reusable shopping bags as for example Bag-all's Folding tote bags. Avoid buying bottled water and pack your lunch in reusable containers instead of plastic bags. Buy locally produced food. Use Gift bags instead of wrapping your gifts in paper. Save energy in your home. Drive less and use public transport or walk.
We can all do something!